Supreme Upfits
---
Need to tailor your truck body to better fit your business requirements? From four side walls, to eight types of bumpers, to numerous liftgate packages, Supreme takes pride in offering a variety of options to help you customize a truck body that's right for you. With a Supreme truck body, you'll be confident that you and your customers are using one of the best quality products on the road.
View Supreme Upfits
---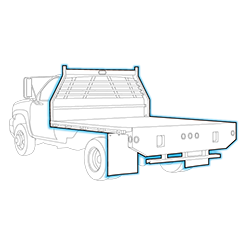 Supreme Platform Body
Simplify the loading and transporting of a variety of weather-resistant materials with Supreme's Platform truck. Plus, you can easily add removable stakes for extra flexibility in securing cargo. Durable and versatile, it's popular with roofing, lumber, pipe, construction, and lawn care companies, as well as golf courses, nurseries, farms, and park and recreation departments.
View Supreme Platform Body Upfits
---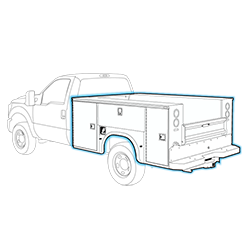 Supreme Service Body
Spartan Service truck body delivers convenience. You'll find compartments and custom shelving to keep you organized, and a large, bright work space that provides shelter from the elements while at the worksite. You can even work standing up inside, and the low-profile design allows easy access to your cargo and equipment.
View Supreme Service Body Upfits
---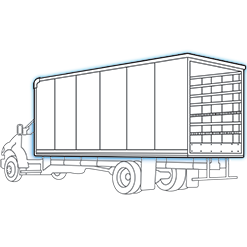 Supreme Dry Freight
With three types of Dry Freight truck bodies to choose from, Supreme sets the standard for efficiency. The Signature Van, the Inner-City, and the Spartan Cargo (each of which come in a variety of sizes) provide the cargo solution your business needs.
View Supreme Dry Freight Upfits
---
Supreme Stake Bed
Secure cargo by adding stakes with wood or steel slats; or fixed or sliding winches with straps to a platform truck body Accommodate oversized loads and allow accessibility from any direction with removable stake sides Protect the cab and secure cargo with different sizes and types of bulkheads.
View Supreme Stake Bed Upfits
---
Supreme Cutaway Body
Durable and strong, Supreme's Signature Van Body – available in a variety of sizes – can handle a range of payloads to help you get the job done, no matter what you're hauling.
View Supreme Cutaway Vans
---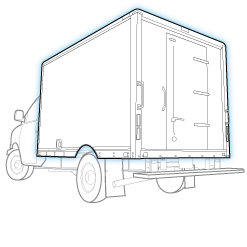 Supreme Refrigerated Body
Available in a variety of sizes, the Kold King can be adjusted from single-and mid-temperature to deep-frozen, multi-temperature applications. Thermally efficient, customizable, and built to stand up to the rigorous demands of multi-stop refrigerated delivery, the Kold King is a smart choice for transporting a variety of products.
View Supreme Refrigeration Upfits