Knapheide Upfits
---
Knapheide has a longstanding history of providing commercial vehicle solutions, including truck beds and truck equipment, to a wide variety of trades. Many Knapheide truck beds were designed for a specific vocation and packed with features tailored to the job. Knapheide truck beds have been put to the test throughout North America by farmers, contractors, landscapers, field mechanics, plumbers, electricians, pest control technicians, arborists, lineman, and many more.
View Knapheide Upfits
---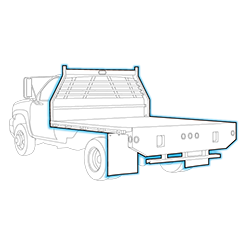 Knapheide Platform Body
Knapheide Platform Bodies enable users to safely and efficiently transport bulk materials and large equipment to and from the jobsite. Numerous types of Platform Bodies are available for specific applications, including contractors and landscapers. Numerous options and accessories such as side accessories, floor materials, hoists and more are available to fully customize to the exact needs you have.
View Knapheide Platform Upfits
---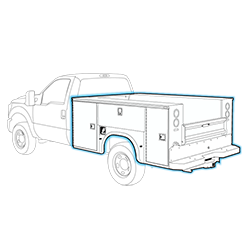 Knapheide Service Body
A service truck contains all the tools, parts and equipment you need to get the job done. Knapheide manufactures a full line of Service Bodies to meet nearly any vocational application or size of truck – from half tons to class eight.
View Knapheide Service Upfits
---
Knapheide KUVs
Looking for the most dependable enclosed utility body in the industry? Look no further. Knapheide KUVs are considered essential equipment among the HVAC/plumbing, electrical, construction, along with many other skilled trades across the United States. These enclosed utility bodies feature side accessible storage compartments and an oversized cargo area that can all be locked centrally for maximum security.
View Knapheide KUVs
---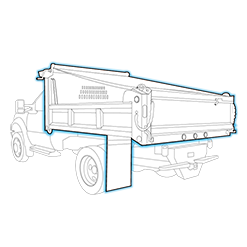 Knapheide Dump Body
Knapheide Dump Bodies possess the industry's best features including a versatile double-acting tailgate, innovative quick-release lever on drop side models and superior corrosion resistance. Construction, landscaping, lawn care, nursery and masonry companies big and small have relied on Knapheide Dump Bodies for their heaviest loads.
View Knapheide Dump Body Upfits
---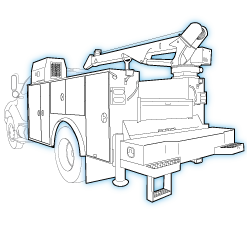 Knapheide Mechanics Truck
Rugged Knapheide Mechanics Trucks have been utilized in many different industries including heavy construction, railroads, municipalities, mining, agriculture and equipment rental. Knapheide Mechanics Trucks provide reliability, productivity and safety on the jobsite. All Mechanics Trucks from Knapheide feature a crane to perform the lifting, heavy duty mechanics drawers for organized tool storage and ample and secure storage within the side compartments. Choose from a variety of crane body lengths, electric or hydraulic cranes, compressors, welders, generators, lube packages and auxiliary lighting.
View Knapheide Mechanics Trucks
---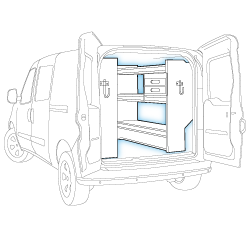 Knapheide Van Equipment
Sortimo North America is a partnership between Sortimo International and The Knapheide Manufacturing Company to bring the next generation of van storage solutions to today's mobile contractors. Sortimo offers the most innovative line-up of van equipment including van shelving, van accessories, van partitions, van packages, van storage bins and drawers. Van interiors from Sortimo utilize rugged yet lightweight materials maximizing the available payload in your cargo van.
View Knapheide Vans